UNLV baseball's rebuilding project still a work in progress
UNLV improved its victory total from 20 a year ago to 35, and as encouraging as that jump was for the Rebels, the way the baseball season played out shows that the rebuilding job isn't finished.
The Rebels lost right-hander Larry Quaney III to an injury on his throwing elbow in March, and they weren't quite the same. Quaney, who was 3-0 with a 3.63 ERA, went down as the Rebels were nearing a 20-3 start, and they finished 35-24.
"Hopefully, we get to a point recruitingwise where a guy goes down, it won't set us back as bad," UNLV coach Stan Stolte said. "We're still a couple of years away from that. I'm not saying we're two years away from being good. We're a couple of years away from surviving injuries and the draft. We would've liked to think Larry was worth four or five more wins, but we'll never know."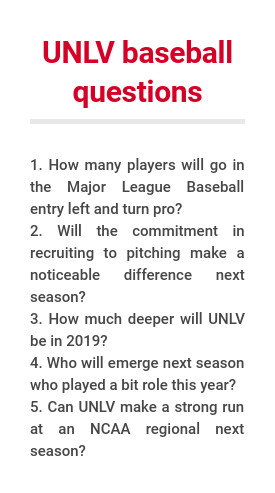 Stolte is pleased with the program's direction, and he has overseen the rebuilding project after former coach Tim Chambers resigned Dec. 18, 2015, following his arrest for driving under the influence. UNLV lost at least one recruiting class as a result of the turmoil that hit the program, and the immediate results were records of 24-32 in 2016 and 20-36 last season.
Then came this season, and UNLV not only charged back to respectability but also showed there is real hope for the program to again become a contender in the Mountain West and perhaps the national stage.
"It makes the offseason a lot easier," Stolte said. "It was a tough offseason last year. We knew we could improve, but to be honest, a 15-game improvement, we wouldn't have expected that."
UNLV will bring back potential All-America shortstop Bryson Stott (.365 average, 30 doubles) next season, first baseman/designated hitter Jack-Thomas Wold (.308) and third baseman Dillon Johnson (.328, 43 RBIs). Also back are pitchers Trevor Horn and Chase Maddux, who combined to allow just four earned runs in 15 innings in last week's Mountain West tournament.
The Rebels will lose junior center fielder Kyle Isbel (.357, 14 home runs, 56 RBIs), who could go as high as the third round in the Major League Baseball entry draft, which begins Monday. Junior first baseman Nick Ames (18 homers, 73 RBIs) could go from the eighth to 12th rounds and possibly turn pro. Junior outfielder Max Smith (.313, 42 RBIs) probably will return to the Rebels.
Stolte also is keeping an eye on his incoming recruiting class and knows he could lose right-hander Ryan McDonald of College of Southern Nevada and outfielders James Gamble of Greenway High School in Phoenix and Chase Hanson of Edison High in Huntington Beach, California.
Perfect Game ranked the Rebels the nation's No. 74 recruiting class, a year after UNLV failed to make the website's top 100. Only San Diego State (No. 50) and New Mexico (No. 71) were ranked ahead of the Rebels among Mountain West teams.
Seven of the 13 recruits are pitchers.
"It's going to be that way from here on out so we can overcome an injury by Larry Quaney," Stolte said. "It showed at the end of the year. It showed in the postseason when you've got to have a guy to get some guys out, you want to go with your best."
More Rebels: Follow all of our UNLV coverage online at reviewjournal.com/Rebels and @RJRebels on Twitter.
Contact Mark Anderson at manderson@reviewjournal.com. Follow @markanderson65 on Twitter.