UNLV opens Mountain West baseball tournament vs. rival UNR
UNLV barely got into the Mountain West baseball tournament, and as the No. 4 seed getting ready to face regular-season champion UNR, the odds would seem to be long for the Rebels.
In most years, that would be the case.
There is no clear-cut favorite this week, however, and the difference between the first and fourth seeds is not massive.
The Rebels enter Thursday's 1:30 p.m. game at San Diego's Tony Gwynn Stadium having split the season series with UNR. And when the teams last met May 11 to 13 in Las Vegas, UNLV won two of three games.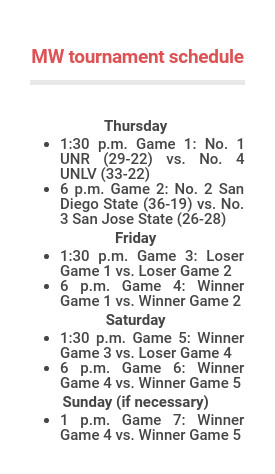 "I think that gives us good confidence," said UNLV outfielder Kyle Isbel, who is batting .357 with 13 home runs and 53 RBIs. "We're coming together here at the end and playing well, so we're all excited and ready to go.
"We made it in, and we feel we can do some damage."
Rebels coach Stan Stolte emphasized the importance of UNLV (33-22) opening with a victory over UNR (29-22) and not dropping into the losers bracket. No. 2 San Diego State (36-19) plays No. 3 San Jose State (26-28) at 6 p.m. Thursday.
If the Rebels fall out of the winners bracket, their pitching staff would be stretched thin. UNLV's team ERA is 4.99, which is better than two other teams in the field, but the accumulation of innings could catch up.
"If we have to get in that losers bracket and fight through, that could be a problem," Stolte said. "Somebody's going to have to step up out of the pen and give us some innings when they haven't so far."
UNLV will start right-hander Alan Strong against UNR. He is 7-3 with a 3.96 ERA and has struck out 79 batters in 84 innings.
Strong has been an innings eater, having thrown 15 more than the next closest Rebel. He threw at least six innings in nine consecutive starts before running into trouble in his most recent one, lasting three innings in a 6-1 loss May 17 at Fresno State.
A more typical Strong start against the Wolf Pack would help UNLV's bullpen as the Rebels try to advance in the double-elimination tournament.
"The first game's really important, especially in a tournament like that," Strong said. "We can't think about anybody else."
UNLV, which leads the Mountain West with a .313 batting average, has the hitting to make a strong run. The Rebels are led by shortstop Bryson Stott, who is batting .383 with a nation-leading 29 doubles and is in the running for All-America honors.
He is one of six players batting better than .300. First baseman Nick Ames is close to that mark, hitting .295 with a team highs of 18 home runs and 69 RBIs.
"Our bats are really good," Isbel said. "I think pitching and defense are going to be our most important thing. If we play defense and we pitch well, I know our bats are going to come through."
UNLV showed early in the season it had the talent to do well in the postseason, opening with a 20-3 record. But the Rebels stumbled in conference play before squeaking into the tournament.
Regardless of how they got there, the Rebels made it.
"We're going to play hard no matter what," Stolte said. "We're going to be ready to go."
More Rebels: Follow all of our UNLV coverage online at reviewjournal.com/Rebels and @RJRebels on Twitter.
Contact Mark Anderson at manderson@reviewjournal.com. Follow @markanderson65 on Twitter.