Over 114K cast votes in 3 days of early voting in Nevada
Updated October 23, 2018 - 7:12 pm
Voters in Nevada have cast more ballots after three days of early voting than they did in the entire first week of the 2014 midterm election.
As of 12:30 p.m. Tuesday, 114,491 Nevada residents have voted, compared with 111,811 in the first seven days of voting four years ago.
Clark County voters represent nearly 72 percent of all ballots cast.
Joe Gloria, registrar of voters for the Clark County Election Department, said previously that the turnout has been "great" and that voters have been patient with the lines at the voting centers. The malls, he said, are better able to handle a higher volume of people.
Myriad factors — including high-profile races at the top of the ticket — are behind the high voter turnout, which almost mirrors the 2016 presidential election turnout after three days. At the same point two years ago, 145,538 Nevada voters had cast their ballots.
Kyle Kondik, managing editor of Sabato's Crystal Ball at the University of Virginia Center for Politics, said he thinks there will be a strong Democratic turnout. Because Republicans hold the White House, he expects a high turnout from the "out party."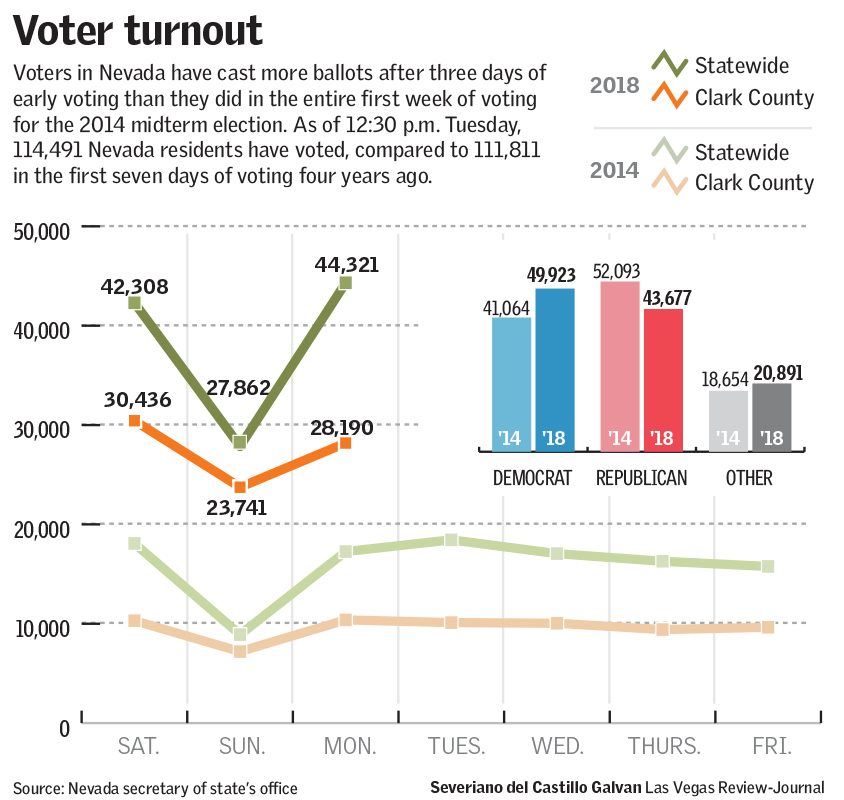 However, registered Democrats claim only a slight edge over Republicans in the number of votes cast. Republican turnout trails Democratic turnout by 6,246 votes. In addition, 20,891 votes have been cast by voters who identify with another political party.
Early voting will run through Friday, Nov. 2. Election Day is Nov. 6.
Review-Journal staff writer Mike Shoro contributed to this report.
Contact Natalie Bruzda at nbruzda@reviewjournal.com or 702-477-3897. Follow @NatalieBruzda on Twitter.