Coyote Springs developer envisioned project twice Summerlin's size
Reno developer and lobbyist Harvey Whittemore first dreamed up the idea to build Nevada's largest master-planned community on an empty expanse of desert an hour's drive north of Las Vegas.
In 1998, he paid $23 million for about 43,000 acres straddling the Clark County-Lincoln County line, then promptly sold an established groundwater well and about 7,500 acre-feet of his water rights there to the Southern Nevada Water Authority for almost exactly what he paid for the property.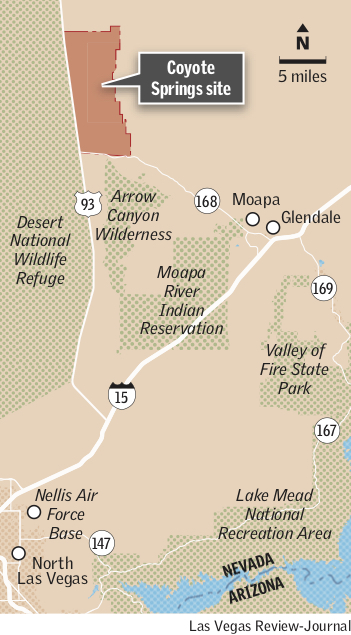 Whittemore eventually took on partners, including Pardee Homes and the Seeno family, prominent builders in California's East Bay.
By 2006, developers were touting plans for Coyote Springs, a community twice the size of Summerlin, with as many as 150,000 homes, 10 golf courses and a full slate of commercial amenities, including several hotel-casinos.
Over time, Pardee spent about $140 million on Coyote Springs land with an option to buy up to $1.2 billion worth of property there.
Then the housing market crashed, and so did Coyote Springs.
By 2012, the Seenos had taken control of the development and were locked in lawsuits with both Pardee and Whittemore, who eventually went to prison for funneling illegal campaign contributions to then-Senate Majority Leader Harry Reid.
The last of those lawsuits was settled for undisclosed terms in 2015, clearing the way for construction to begin on the first homes at Coyote Springs.
Today the only thing open is the 18-hole golf course finished there in 2008.
Contact Henry Brean at hbrean@reviewjournal.com or 702-383-0350. Follow @RefriedBrean on Twitter.
RELATED: Suit filed after water official blocks Coyote Springs construction