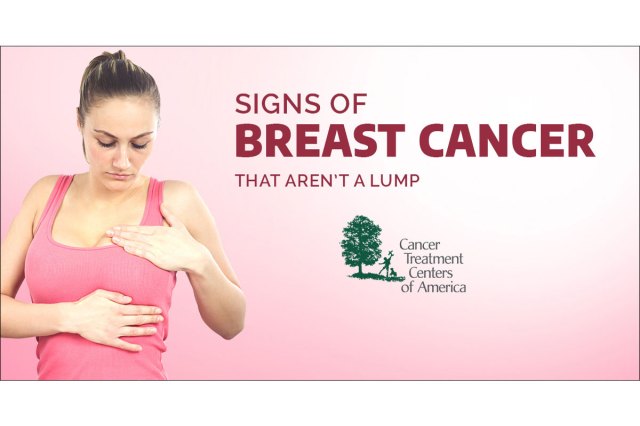 It's National Breast Cancer Awareness Month, and there's some good news in the fight against this deadly disease: From 1989 to 2015, according to the American Cancer Society, early detection efforts contributed to a 39 percent decline in breast cancer deaths in the U.S. And, while most publicity around breast cancer awareness centers on the importance of breast self-examinations, experts agree that lumps aren't the only sign.
"Unfortunately, it's not enough to assume that no lump means no cancer. That's why it's so crucial to be looking for — and tuned into — any changes as they develop," said, Dr. Cynthia Lynch medical oncologist at Cancer Treatment Centers of America in Phoenix.
Dr. Cynthia Lynch is the Medical Director of the Breast Center in Phoenix and is Board Certified in Hematology & Medical Oncology by the American Board of Internal Medicine.
According to Dr. Lynch, other warning signs include:
Changes to the nipple and surrounding area, particularly a nipple that has newly inverted
Bloody nipple discharge
Change in color (typically to pink or red), and/or dimpling or thickening of the breast skin (particularly when paired with shooting pain). These can be signs of inflammatory breast cancer, a rare but aggressive form of the disease that may not be detected by mammogram
Increased warmth in the breast, or one breast appearing larger and feeling warmer or heavier than the other
Breast pain, itching, or tenderness
A non-healing sore anywhere on the breast, including on the nipple, which can be a sign of Paget's disease of the breast, another rare form of breast cancer
Swelling of lymph nodes in the armpit
Do you know when you should be screened for different types of cancer and what cancers can be detected with screening? Click here to sort through what can seem like contradicting screening guidelines.
If you notice any changes in your breasts or experience any of these symptoms, contact your doctor right away, Dr. Lynch says.
And remember: not all breast lumps are signs of cancer, so get familiar with the look and feel of your breasts. You might spot changes that could be especially key in helping detect breast cancer early. Perform a visual checkup by standing in front of a mirror and putting your hands on your hips, or raise them, while inspecting your breasts. Placing your arms in two different positions is also helpful.
"Ultimately, you know your body best – and when it comes to early detection of breast cancer, you are your own best advocate," Dr. Lynch says.
8 preventative measures that may help reduce cancer risk or detect it early
Maintain a healthy weight; exercise regularly
Stick to a healthy diet – low sugar, lean meat, plant-based
Quit smoking
Get consistent sleep
Reduce chronic stress
Protect yourself in the sun
Know your family history
Get regular preventative screenings
Did you know tobacco and alcohol combined elevate cancer risk? Read more about what doctors reference as "double trouble."
Cauliflower Pizza Crust
Want a healthier alternative to an all-time favorite food? Try making your next pizza with a cauliflower crust instead. Add some fiber; lose some guilt. Click here to watch the how-to video.
CRUST:
3 cups cauliflower florets (about 1 medium head)
½ cup freshly grated mozzarella cheese
¼ cup freshly grated Parmesan cheese
1 cup kale chips, crushed
1 tsp. dried Italian seasonings
1 tsp. garlic powder
Salt and pepper to taste
1 egg, beaten
PIZZA TOPPINGS:
Marinara sauce
Nitrate-free pepperoni
Sliced red onion
Mushrooms
DIRECTIONS:
Preheat your oven to 400°F, and line a large baking sheet with parchment paper.
Using a food processor, lightly pulse the cauliflower in batches until it resembles rice. Place the cauliflower "rice" in a large microwave-safe bowl and microwave for 6-8 minutes or until soft.  Allow to cool.
To the cauliflower: Add the mozzarella and Parmesan cheese, Italian seasoning, garlic powder, kale, egg and season with salt and pepper – mixing very well. Add the mixture onto the baking sheet, and press down to form desired pizza crust shape.
Bake the pizza crust for about 25 minutes or until golden brown. Top with desired pizza toppings and bake again for an additional 10 minutes.
Allow to cool slightly and enjoy!
Healthy doesn't have to mean boring! Click here to browse other healthy recipes and tips – whether main dishes or snack and desserts.
Cancer Treatment Centers of America (CTCA) is a comprehensive cancer care network of hospitals and outpatient care centers in Atlanta, Chicago, Philadelphia, Phoenix and Tulsa. Specializing in the treatment of adult cancer patients, CTCA offers an integrative approach to care that combines surgery, radiation, chemotherapy, and immunotherapy with advancements in precision cancer treatment and supportive therapies designed to manage side effects and enhance quality of life both during and after treatment. If you or a loved one been diagnosed with cancer, CTCA is here to help. Read more about its expert clinical teams, innovative treatment options, and resources for those fighting cancer.